禅道项目被sourceforge选为2013年3月份推荐项目
2013-03-05 09:49:51
王春生

7329
摘要:禅道项目被sourceforge选为2013年3月份推荐项目
今天早上收到sourceforge团队发来的Email,得知禅道被sourceforge选为3月份的推荐项目,呵呵,小小的高兴下: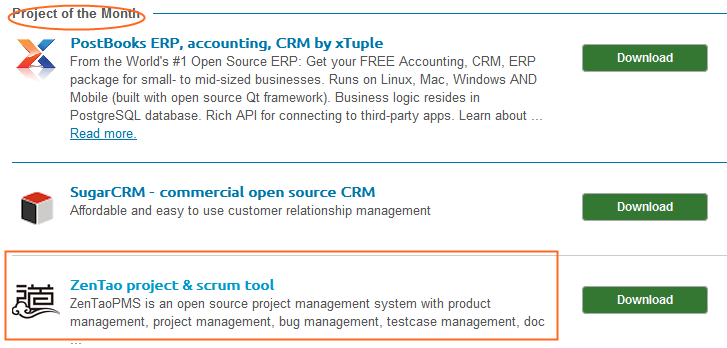 附:月份推荐项目的选择标准:
Rich Bowen
22:59 (11 hours ago)

to sfcommunity, Bei

Dear SourceForge project admin,

Your project will be featured on the front page of SourceForge.net for the week of March 4, 2013. Projects are chosen based on a variety of considerations, such as recent releases, interesting blog activity, or other related things.

Front page features tend to result in increased traffic to your project page, so you may want to take this opportunity to make sure you have the latest project description, screenshots, and project logo.

Also, since I know that several of you have more than one project, I've listed all the featured projects below (in no particular order - the list is random order on the front page), so that you'll know which one, and who you'll be sharing the page with.

Finally, if you're still running the Classic SourceForge, and haven't upgraded yet, I'm sure you've already received email from me about that, so forgive me bugging you again, but this would be a great time to make that move.

If you'd like to have a guest blog post this week, please let me know. This can be something you've already written on your project blog, or new content, as you prefer. You can contact me at rbowen@sourceforge.net

Thanks for being part of the SourceForge community!